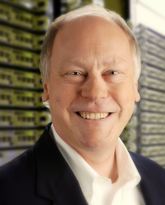 Chip Elliott
Chief Technology Officer
Raytheon BBN Technologies
Biography
Chip Elliott is the Chief Engineer at BBN Technologies and Project Director for the Global Environment for Network Innovations (GENI). Dr. Elliott led the creation of the world's first quantum cryptography network, and he holds more than 50 issued patents covering a variety of inventions in network technology.

Dr. Elliott is an AAAS Fellow and IEEE Fellow, currently serves on the Standing Committee on Research, Development, and Acquisition Options for U.S. Special Operations Command, and has participated in a variety of other national advisory panels including the Defense Science Board, Naval Studies Board (National Academy of Sciences), Army Science Board, and DTO Technology Experts Panel for Quantum Cryptography. He received Frost & Sullivan's Award for Excellence in Technology (2005), is a Fellow of the World Technology Network, and a Finalist for the 2004 World Technology Award for his leadership in quantum cryptography. Over the years he has held visiting faculty positions at Dartmouth College, Tunghai University in Taiwan, and the Indian Institute of Technology, Kanpur.

Dr. Elliott graduated from Dartmouth College with an honors degree in mathematics. He has published 14 conference papers and 23 refereed articles and book chapters, been an invited speaker at numerous conferences, and served on peer reviews for the National Science Foundation and the Natural Sciences and Engineering Research Council (Canada).